H & H Tool & Cutter Service 50 Hudson St. Tiffin, OH 419-447-9052 Back Home page
Planers
Delta TP305 12.5" $279 Replacement Belt 22-546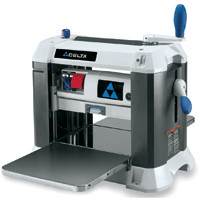 Delta 22-580 13" 2 speed planer $469 Replacement Belt 22-563
Shop Fox W1742 15" 3hp planer w/ cast irons wings, built in mobile base, deluxe controls. $1155 Limited Time Special! Free set of CMT 15" 18%W European SOLID HSS Planer Knives.
Shop Fox 20" 5hp planer
Sharpening Service for HSS Planer & Jointer Knives up to 3/16" thick or 60" long. $ 0.50/ inch or $6 minimum charge.